::R3898 : page 370::
LETTERS FOR THE EDITOR SHOULD BE SENT TO ALLEGHENY, PA., U.S.A.
BUSINESS COMMUNICATIONS AND REMITTANCES
—ADDRESS TO—
WATCH TOWER BIBLE & TRACT SOCIETY
"BIBLE HOUSE," 610, 612, 614 ARCH ST., ALLEGHENY, PA., U.S.A.
—OR TO—
BRITISH BRANCH—24 EVERSHOLT ST., LONDON, N.W.
GERMAN BRANCH—MIRKER STR., 45, ELBERFELD.
AUSTRALASIAN BRANCH—EQUITABLE BLDG., COLLINS ST., MELBOURNE
PRICE, $1.00 (4S.) A YEAR IN ADVANCE.
MONEY MAY BE SENT BY EXPRESS, BANK DRAFT, POSTAL ORDER, OR REGISTERED.
FROM FOREIGN COUNTRIES BY FOREIGN MONEY ORDERS, ONLY.
TERMS TO THE LORD'S POOR AS FOLLOWS:—
All Bible Students who, by reason of old age, or other infirmity or adversity, are unable to pay for this Journal, will be supplied FREE if they send a Postal Card each June stating their case and requesting its continuance. We are not only willing, but anxious, that all such be on our list continually and in touch with the Studies, etc.
==========
ENTERED AS SECOND CLASS MAIL MATTER AT ALLEGHENY, PA., POST OFFICE.
==========
THIS JOURNAL IS PUBLISHED IN THE
FRENCH, GERMAN, SWEDISH, DANISH AND ITALIAN LANGUAGES.
SAMPLE COPIES FREE.
==========
1907—MOTTO CARDS—1907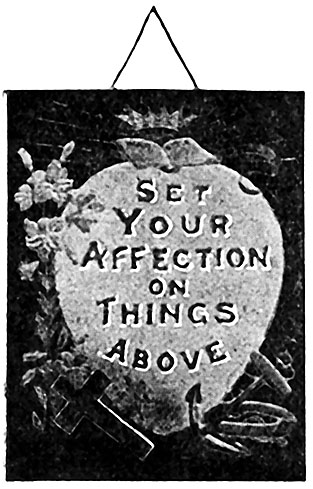 We announce these a little in advance because some of the friends may be ordering other mottoes before the first of the year, and may desire to include some of these. We hope that they will be found in every home, if not in every room of WATCH TOWER subscribers. Put up singly and postpaid, 10 cents. In packs of 10 to one address, postpaid, 60 cents. In quantities by freight or express collect, 5 cents each.
The "In Due Time" mottoes we now have in good supply at same prices as the above.
General information with regard to other mottoes will be found on page 4 of the Catalogue in this issue. British friends order of London office.
HYMNS OF DAWN and ZION'S GLAD SONGS are the only hymn books we expect to handle. Between them we have a large and choice selection of nearly 400 hymns and tunes. We trust that all will familiarize themselves with these, that we may sing the same hymns of praise as well as "mind the same things" doctrinally. Quality the choicest, prices one-third the usual.
====================
— December 1, 1906 —